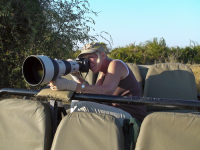 Always the artist-perfectionist, Harriet's vision and entrepreneurshipshowed long ago.  She spent 35 years in the floral industry with such clients as the Academy Awards and Paramount Pictures. But the animals and people of Africa are her first love: "Africa is a destination overflowing with mystery, beauty and sadness that touches your mind, your heart and your soul. It is where life began.  It is difficult expressing the humility one feels when visiting and sharing Africa's vastness, its animals and its culture; but I believe it can be expressed and felt through the lens of the camera"

Long before Harriet ever met Jim, in 1995 Harriet went off by herself on her first African Safari to Kenya and Tanzania. Africa for her was definitely love at first sight.  Armed with only a small Canon film camera with a couple of lenses she began capturing African images.  Harriet was fortunate enough in recent years to spend months in the bush equipped with the latest photographic and computer technology.  A few of these photos were captured right in a camp, but most were the result of the hours spent in the bush with some of the best professional guides in the best locations in Africa.

Harriet has been up close with her cameras to the polar bears at the Hudson Bay in Canada and the grizzlies in the remote northwest of British Columbia. She also loves capturing a full frame of a rose or a begonia or even the delicate intricacy of a spider and its moist web.  An avid diver, Harriet has taken her photography underwater, having captured everything from hammerhead sharks and manta rays to lionfish in such far-away places as the Australia Great Barrier Reef, Palau, Yap, Cocos Islands and, of course, the Caribbean.  

Harriet loves traveling and diving with her kids and grandkids; and when not wandering the world and home in Las Vegas she enjoys being grandma to some of the combined 14 grandchildren.
Mailing Community:
Not subscribed to NCC Community
Mailing Enotice:
Subscribed to NCC E-Notice