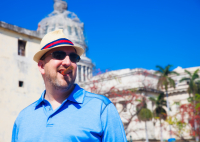 In 2005, I was driving my daughter's things to college, Vegas to Santa Clara.  I spent the night in a sketchy motel and headed out before dawn for the second leg of the trip.  As the sun rose, I was passing the San Luis Reservoir, and the sunrise caught my eye in the rear view mirror. 
The sunrise was beautiful, so beautiful that I pulled over and got out of my car to enjoy it.   But I didn't own a camera to capture the moment. So I decided that when I came back to pick up my daughter's things at the end of the school year, I would have a camera with me to shoot that beautiful sunrise.  The next May, I bought a Canon 30D camera with a kit lens, knowing nothing of how to use it.  I timed the drive exactly the same way, with the same sketchy stopover, and stood in the dark, ready for the sunrise with my new camera.
That's when I became a shutterbug.
I shoot with a Canon 5D Mark II.  I will shoot anything--landscapes, wildlife, street life, and portraits.  Last year my wife bought me a Bronica ETRSi medium format camera, and I have been learning film photography from scratch.
My portfolio can be viewed at https://pjr.smugmug.com.
Mailing Community:
Subscribed to NCC Community
Mailing Enotice:
Subscribed to NCC E-Notice